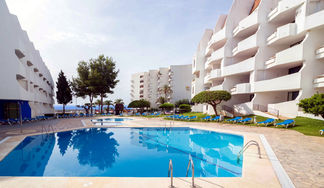 Why choose Eurhostal?
A good reason to choose Eurhostal is its surroundings.  The building is a few steps away from Las Fuentes beach.  It is a family friendly place where children are entertained and get excited about the activities offered.  And finally, because the food is consistently excellent.
For anybody who does not know us, we are situated in Alcossebre.  Choosing Eurhostal for your holiday is choosing an unbeatable location, just a step away from the beach.  Our complex has everything you need for a wonderful holiday.
If you want a memorable family experience, choice Eurhostal.  You will never regret it.
Karina, one of our monitors, is in charge of the activities for all ages, both on the beach and in the pool.  Children are simply our priority.
And in order to have a totally relaxed holiday, at Eurhostal, let la Cúpula buffet restaurant cooks and serves you.  You have a wide choice of delicious dishes.  Our speciality is its range of Valenciano rice dishes: paella, arroz al horny, arroz negro.  You could sample a different dish every day of your stay.