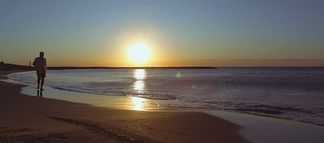 Experience the unique environment of las Fuentes
Eurhostal is very conveniently situated, just in front of the Las Fuentes beach.  This beach is unique in the Valencian Region because of its freshwater springs that descend from the Maestrat aquifer.  There are few occasions when nature gives us such a treat.  Every day of the year you can see different bubbling springs that move around according to the tide.  The water from the springs is both cool and refreshing!
The beach is especially recommended to families, for its gently shelving sands and its sheltered bay.