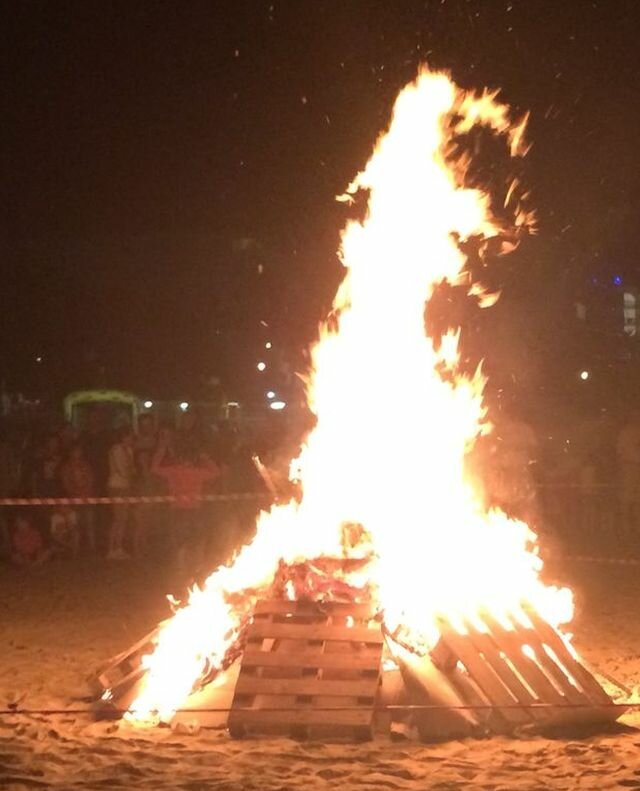 Why should You Spend the Night of Saint John in Alcossebre?
The night of Saint John or San Juan is celebrated throughout Spain on the night of June 23rd. Each place has its own rituals, in all of them fire appears. The night of San Juan in Alcossebre is no exception. On the one hand there is the fire of the main bonfire that is lit on the beach of Las Fuentes, and on the other, many other small bonfires around which groups of friends gather. The whole beach is filled with small points of light, which look like fireflies.
In addition, on the night of San Juan in Alcossebre, there is a fire show on the beach of Las Fuentes that you should not miss if you are here. A group of boys and girls on stilts perform a fire juggling show with great skill, it is very impressive and colourful.
Why is fire so important on a St. John's night?
Fire purifies, so it helps us to burn everything bad. In addition, according to popular tradition, it also keeps evil spirits away.
Haven't you also heard that it's good luck to jump over the flames of a bonfire on Midsummer's Eve? It seems that if we do it, good luck will protect us throughout the year. Of course, you have to be constant because in order to fulfil the ritual, depending on where you are, you have to jump over the bonfire several times.
Choose your ritual for the shortest night of the year
In Alcossebre it would be necessary to jump 7 times to attract luck and in some other places even up to 9 times.
Another ritual that you can carry out on the night of San Juan in Alcossebre is to take a dip in the sea at midnight. According to tradition, this will ensure health for the whole year.
As water is also a magical element, if you do not want to bathe or jump over the flames of the bonfire, you can also jump 9 waves with your back to the sea, so you will also get rid of negative energies and attract good luck.
So many superstitions, right? Sometimes it is good to get carried away by the illusion and not be so rational, that's why the night of San Juan is so popular, because it allows us to get carried away and follow the magic of fire and water.