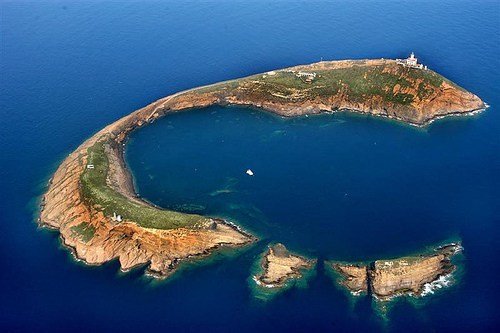 The Columbretes Islands
The Columbretes Islands, where are they?
Although they are one of the most appealing islands of the Mediterranean Coast, they are not well known. The Columbretes Islands are situated close to Castellón. Its waters are very interesting for divers and nature lovers, because being considered a natural protected area, the seabed offers many surprises. For example it is possible to find red coral, so rare in the rest of the Spanish coast.
You can discover native species that are unique to the world. There are a large number of birds that nest on the islands such as the tufted cormorants and the Eleonora falcon.
The Columbretes is comprised of a group of four volcanic islands: the Grossa island which is the largest and has a horseshoe shape, La Ferrera, La Forada and El Carallot. The group has high ecological value.
They are located about 30 miles east of the coast of Castellón. The journey by boat to the islands lasts approximately 2 hours, depending on the state of the sea. The L'illa Grossa is the only part of the archipelago that can be visited on foot offering a beautiful walk to the Lighthouse. Along the way it is possible to admire the impressive row of craters that give rise to the Island.
It is a paradise for divers and snorkel lovers. It is necessary to request authorization to visit it or anchor in its waters. From Alcossebre you can organize a boat trip to snorkel or dive by contacting Barracuda diving.