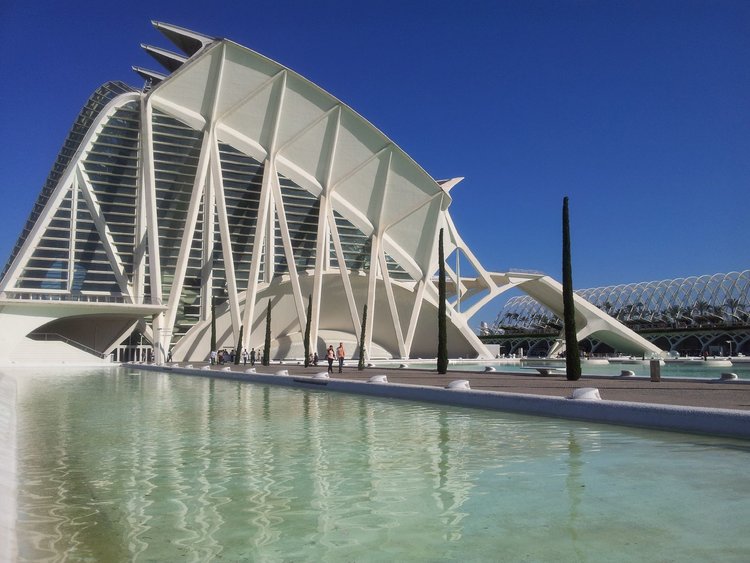 City of Arts and Sciences
The City of Arts and Sciences is located in former riverbed of the Turia river
The riverbed was made into a garden in 1980 after the river was diverted to avoid recurring floods.  This park has given the city a special charm – space for walking, cycling or having a coffee in the shade of the trees.
The City of Arts and Sciences lies in the same riverbed, housed in a unique set of buildings.  Its museums have become centres of cultural and scientific leisure and learning.  It is called "city" because it is a group of avant-garde buildings that extend over an area of some two kilometers, designed by architects Santiago Calatrava and Felix Candela, and opened in 1998.
A one day visit to the City of Arts and Sciences is highly recommended for people of all ages.  There you will find a digital cinema, a science museum, a theatre for opera or ballet and a world class aquarium.  The accompanying video gives you a virtual tour.
The Hemispheric is a digital cinema in which interesting documentaries are shown.  The building is easily recognized with its eye shapes outline.
The Prince Felipe museum is an interactive science museum where school aged children can exploit great opportunities for active learning and research.  This building resembles the skeleton of a dinosaur.
The Queen Sofia Palace of the Arts mounts operas, zarzuelas and ballet.
The Oceanographic is the largest aquarium in Europe.  Its surface measures 110,000 square metres.  It contains 42 million litres of water and more than 500 marine species.  We recommend the dolphin show, although seeing sharks swimming above your head is also more than a little impressive.