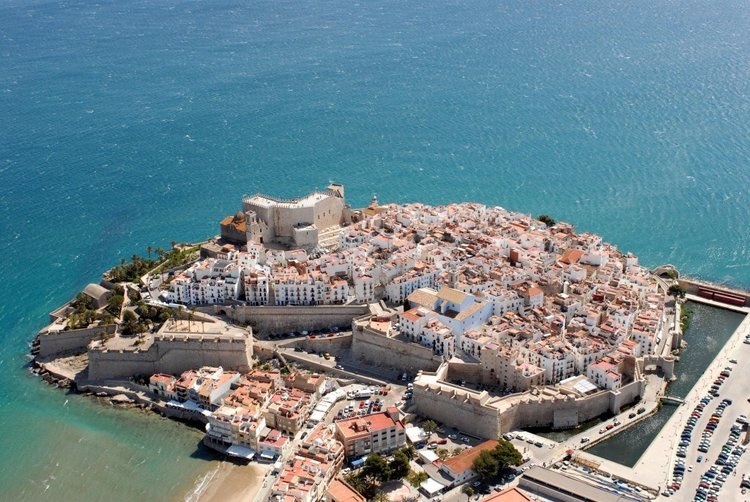 Peñíscola
Old Peñiscola is a  peninsula surrounded by the sea on three sides.  
Their beautiful white houses with indigo blue windows and doors frames and the sea in the background make Peñiscola a jewel in the crown.  Long ago the Valencian coasts suffered constant attacks from the sea, which is why the town is surrounded by a set of walls and watchtowers to protect it.  The summit the castle is an impregnable fortress.
A visit to Peñíscola takes you back in time.  Its Castle was built by the Order of the Knights Templar.  It was also the residence of Pope Benedict XIII, better known as Papa Luna.
The views from the castle terraces are spectacular.  On one side the port and the landscapes of the Irta range, on the other side the old town.
When you go up to the old town through the main gate, make sure you don't miss the buffador.  It is an underwater channel which allows the waves to crash on rocks making an impressive noise, especially after a storm.  And of course, you explore the countless craft shops lining its steep streets.  We suggest you wear comfortable shoes.  High heels are not recommended for this surface. 
Finally, if you like fish, do not hesitate to try Peniscola's cuisine.  Remember it is a fishing port and has a renowned fish market, the quality of whose fish and seafood is simply excellent.