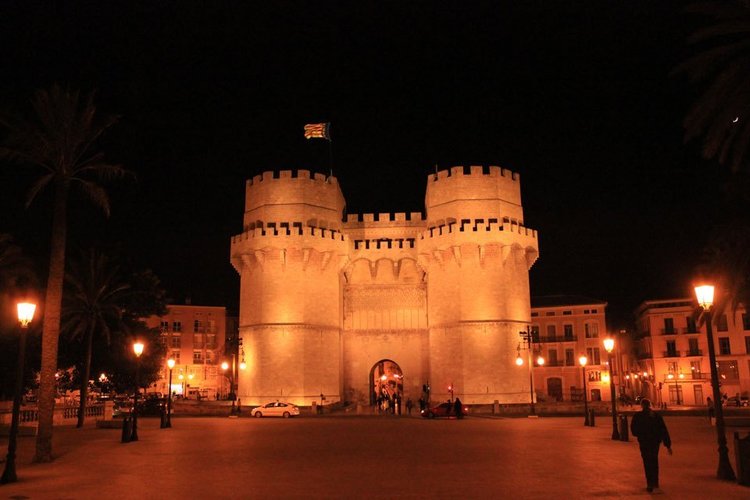 Get to know Valencia
Get to know Valencia
To get to know Valencia, take a walk through its streets.  In each corner you will find impressive buildings in a variety of architectural styles.
The Cathedral, the bell tower (known as the Miguelete), and the Lonja de la Seda (ancient silk market building) are the Gothic buildings of Valencia.  Baroque Valencia is represented by spectacular buildings like the Marquis de Dos Aguas and the Basilica of the Virgen de los Desamparados.  Modernity is represented by the Central Market, the Mercado de Colón and the Post Office building.  Finally, the avant-garde trend is found in the Palau de la Música and in the City of Arts and Sciences.
What to visit in Valencia?
The following are the most popular places to visit in Valencia:-   
  The Carmen neighborhood with the Plaza de la Reina and the Plaza de la Virgen.
 The Central Market area and the Silk Exchange.
  The Torres de Quart and the Torres de Serrano that are the only remaining traces of the wall that surrounded the old town of Valencia.
 Valencia is also known as the city of flowers, for its numerous parks such as the Botanic Garden, the Parque del Oeste, the Jardines del Real and the Jardín del Turia.
From the gastronomic point of view, Valencia has a lot to offer.  You can try the famous Valencian Paella, in any of its typical restaurants.  The specialty of Valencian cuisine is rice.  Try one of these specialties that are less well known than paella, but really good; the abanda rice, the arroz al horno (baked rice), the señoret, the lobster rice, the broth rice, and more.