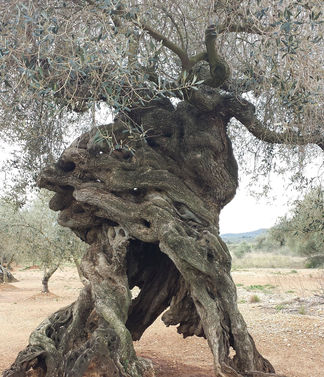 The route of the ancient olive trees
Do you know about the ancient olive trees and liquid gold?
Liquid gold refers to the oil extracted from one of these millenary olive trees.  The life of an olive tree, which can exceed 600 years, is easy to measure.  Can you imagine all that the olive trees have seen?  Savouring the oil of an ancient olive tree is a genuine luxury.  That is why the oil of these trees was called liquid gold in fine dining circles.
In Spain, there are more than 4,000 such trees and all of them are protected.  Most are located in the Valencian Community, mainly in the Lower Maestrazgo region.  The towns that are richest in these ancient trees are Canet lo Roig, La Jana and La Traiguera.  Examples of olea europea, by now ancient living monuments are abundant in the area.
Because of their twisted branches these trees are now nature's sculptures gnarled by the weight of history and the passing years. There are even trees which have intertwined like twin brothers.  See photographs above/below.  Huge trunks can reach as much as nine or ten metres in diametre.
We recommend the route of the ancient olive trees in Canet lo Roig to you.
The route follows a circular path and includes the Villa Gros, a Roman Fountain.  The trail is 8.5 km long and surrounds the Sérvol River. Then the route continues along the Camí de les Planes until reaching the Olivera del Notari, which is one of the most beautiful examples of a millenary olive tree.
The town itself stands on a very striking reddish hill (hence Roig: Red) that dominates the flat lands surrounding it.  It makes a perfect half-day excursion from Alcossebre.
Remember to buy a bottle of liquid gold.  It's a perfect gift and it's delicious.